Yet Another Zombie Survivors Steam CD Key Global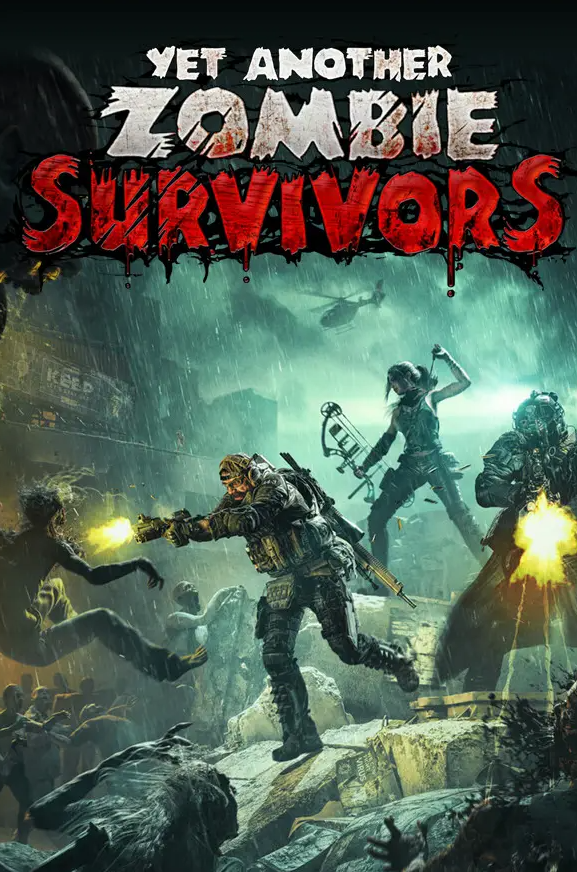 -25%
Yet Another Zombie Survivors Steam CD Key Global
Present Price

EUR 7.50

EUR 9.99

Earn Up to EUR 0.60
Plošina

Kraj

Značky

FPS

Skladem

Na skladě
Nový Horký
The Horde is coming but you're ready to fight it! Assemble your team and decide upon their enhancements to find the most efficient synergies against thousands of the undead. Survive. Then evolve. Then break all the limits in this deceivingly simple but addictive reverse bullet hell.
You've had enough of hiding behind the barricades. Now it's time to let the zombie horde pay for their unholy existence. The virus has spread throughout the world, but humanity is far from giving up.
Forget about things like complicated controls or hour-long cutscenes — jump right into the fray and watch the fireworks! It's a game that everyone will enjoy, no matter their gaming experience, as the characters you command aim and shoot on their own. Just drop onto the couch and bask in your endorphin rising from a survivors-like gameplay loop!
Your squad evolves upon your customized decisions as you play. Pursue a varied set of perks and support skills, or focus on your favorite character to alter their gear and gain their ultimate abilities.
Control a lone SWAT soldier or an entire team of badass mercenaries armed with katana, flamethrower and rocket launcher - it's up to you every time you play!
Forge your squad to your liking with permanent upgrades. Decide upon how you'd like to progress and if you change your mind just reset and try something else. Pursue the specialization you enjoy the most and observe how your team becomes death, destroyer of worlds.
Assert your dominance over the enemy by increasing the virus' strength and making the hell's army stronger and faster. And when you finally stand at the top, ascend to a higher state of being with the unique prestige system, proving that you're not afraid of anything.
As a small team of buddies, we make games we enjoy playing and want to share them with you. If you're interested in this title, adding it to your wishlist would mean the world to us!
Don't be shy of dropping into our Discord to chat, posting your questions on the forum, or writing us an email. We'll be more than happy to hear your thoughts on the game and our design direction. Cheers!
whokeys.com is a reliable and competitive online retail store that provides a wide variety of popular game products on all platforms, all kinds of gift cards and other software products. Purchase our products that we got from formal sources. Furthermore, whokeys will keep updating our stock with everything you need.
Mohlo by se vám také líbit
Zavřít

Vítejte v whokeys Přihlásit se.

New users register get 22% discount

WKBF

for software products
Emailová adresa

Heslo

Zapomněli jste heslo ?
Ještě nejste přihlášeni?
Zaregistrujte se hned teď
Přihlaste se pomocí účtu třetí strany:
facebook

google

Twitch

Youtube
Zavřít

Vítejte v registraci whokeys.

22% discount code:

WKBF

for all software products
Emailová adresa *(Used To Receive Key)

Prosím zadejte platný email.

Heslo*

6 až 16 písmen, čísel a zvláštních znaků.

Potvrďte heslo*

Jméno* Příjmení*

Přečetl jsem si a souhlasím s

Přihlaste se k odběru zpravodaje nabídek, soutěží whokeys.
Již máte účet whokeys?
Přihlaste se hned teď
Přihlaste se pomocí účtu třetí strany
facebook

google

Twitch

Youtube
Zavřít
Výzva:
increase-the_programe_has_been_successfully
Zavřít
Výzva:
increase-the_programe_has_been_successfully
Zavřít
Výzva:
Systém je zaneprázdněn. Počkejte prosím a zkuste to znovu.
Zavřít

Úspěšná registrace

Vítejte ! Úspěšně jste se zaregistrovali do členství v whokeys.
Zavřít

Ověření zabezpečení
Kontrolujete produkty, které jste si zakoupili?
Un nuovo articolo è stato aggiunto al tuo carrello.
Mohlo by se vám také líbit

Zavřít
Způsob dopravy
| | Poštovné * | Odhadovaná doba přepravy | Sledovatelné | Dopravce |
| --- | --- | --- | --- | --- |
*Odhadovaný poplatek, skutečná částka se vypočítá při pokladně.