Star Wars Jedi Fallen Order Origin CD Key Global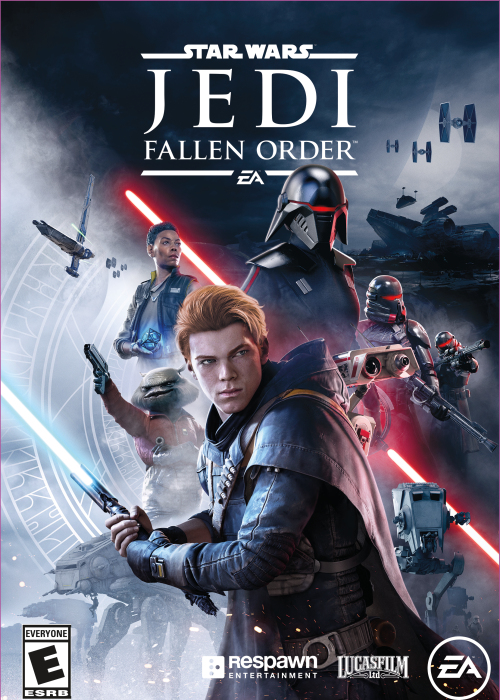 Star Wars Jedi Fallen Order Origin CD Key Global
Nové
Release Date: 11/15/2019, Welcome to order now.
Popis produktu
Star Wars Jedi: Fallen Order is an upcoming singleplayer action-adventure game that takes place shortly after the events of Episode III – Revenge of the Sith occurred. This title is being developed by Respawn Entertainment and published by Electronic Arts for Microsoft Windows, Nintendo Switch, PlayStation 4, Xbox One, and Google Stadia on November 15th, 2019.
After the sinister Order 66 got executed, Jedi all over the galaxy started getting murdered in cold blood. The purge of the Jedi Order swept through many worlds. We will assume the role of one of the last surviving Jedi, Padawan Cal Kestis. Hiding from your enemies went well up until now. But, you couldn't let someone die, so you've used your Jedi powers to save a life, which put your own into grave danger. Star Wars Jedi: Fallen Order will take you through many struggles as you overcome obstacles and face dangerous threats that also possess potent powers.
Let the Force flow through you and use your lightsaber to attack, defend, and evade your foes. Your Jedi weapon and the Force are always at your disposal. Once you complete your training and understand how to fully use your abilities, the plan to rebuild the Jedi Order can start. The game has obscure cliffs, mesmerizing jungles, and old forests for you to explore. All of these different landscapes come with their own challenges and points of interest. See everything that this captivating galaxy has to offer.
Players will enjoy the company of an ex-Jedi Knight, a charming pilot with an attitude, and a droid companion that will follow you wherever you go. Can you avoid the relentless Imperial forces and fulfill your destiny?
Star Wars Jedi: Fallen Order is going to be an epic singleplayer experience that any Star Wars fan is going to love, so preorder your key on HRKGame.com today to play the game as soon as it launches!
Whokeys.com is a reliable and competitive online retail store that provides a wide variety of popular game products on all platforms, all kinds of gift cards and other software products. Purchase our products that we got from formal sources. Furthermore, Whokeys will keep updating our stock with everything you need.
Original Price

EUR 59.99

Discount

Earn Up to EUR 5.62
Platforma

Oblast

značky

FPS

Zásoby

Není skladem
Zavřít

Vítejte v přihlášení do whokeys.
E-mailová adresa

Heslo

Ponechejte mě přihlášeného/přihlášenou

Zapomněli jste heslo?
Ještě jste se nezaregistroval/a?
Sign Up Now
Přihlásit se k účtu třetí strany:
Open the whokeys APP
Scan The code to login
Zavřít

Vítejte v registraci do whokeys
E-mailová adresa *

Please enter a valid Email.

Heslo*

6 to 16 letters, numbers, and special characters.

Potvrdit heslo:*

Křestní jméno* Příjmení*

Přečetl/ jsem si a souhlasím s

Přihlaste se k nabídkám, soutěžím a zpravodajům whokeys
Máte již účet na whokeys?
Přihlaste se nyní
Přihlásit se k účtu třetí strany
Zavřít
Prompt T698563:
The programe has been successfully submitted to the system
Zavřít
Prompt T698563:
The programe has been successfully submitted to the system
Zavřít
Prompt T698563:
The programe has been This is a warning ?
Zavřít

Successful Registration

Welcome ! You have successfully signed up to be an whokeys member.
A new item has been added to your Shopping Cart.