HMA Pro VPN 5 Devices 1 Year Key Global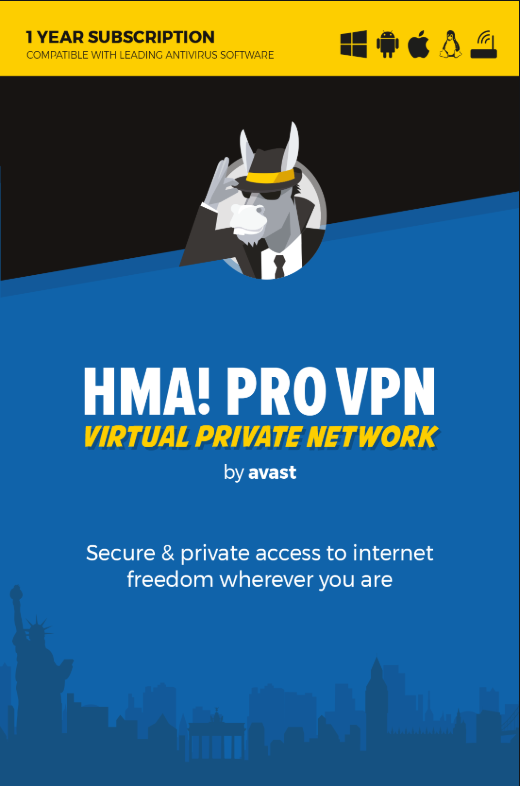 HMA Pro VPN 5 Devices 1 Year Key Global
Nové Horký
Note: You can connect 5 devices at the same time, but you can install this application on as many devices as you like.
Popis produktu
How to activate:
1. Please register at https://my.hidemyass.com/#activate for it to work.Then activate your code at https://my.hidemyass.com/en-eu/#activate-license
2. Download your VPN from Here
3. Install and open the software, then log in the account your registered before.
4. Now you can enjoy it.
Whenever you're online (like right now) and not using VPN software, you're about as exposed as an evangelical nudist. Anyone can see what you just searched for, your banking details, what you're typing — you get the picture.
Choose Hide My Ass! Pro VPN
We do what we say
Nobody's wanting for options when looking for a VPN. But if you want to keep private without running slower than an arthritic turtle, have some control over where and how you connect — and don't want your IP leaked ever, then the market's just about limited to us.
Start streaming shows today with Hide My Ass!
Think any VPN software will do? Think again. We've got servers specifically dedicated for streaming and P2P sharing, meaning we're the best in the business to watch, share, and enjoy your movies online. Legally.
Want a stupid amount of locations?
No reasonable person would ever need over 280 locations to choose from, but we're not reasonable. We've got the world's largest network at your disposal — though you'll only use the one in Guam for some weird reason.
Choose a VPN that's classified-level secure
Heard of military-grade encryption? Hide My Ass! has got one better: donkey-grade encryption, and that's not a buzzword. Have you ever heard of a donkey getting hacked?
Get VPN protection on your IoT network
Install HMA! on your router, and you'll get effortless VPN protection on all your devices — not to mention, you'll be able to stream to your Apple TV. You won't get that anywhere else.
Whokeys.com is a reliable and competitive online retail store that provides a wide variety of popular game products on all platforms, all kinds of gift cards and other software products. Purchase our products that we got from formal sources. Furthermore, Whokeys will keep updating our stock with everything you need.
Original Price

EUR 39.99

Discount

-53%

Earn Up to EUR 1.50
Platforma

Oblast

značky

Software

Zásoby

Skladem
Zavřít

Vítejte v přihlášení do whokeys.
E-mailová adresa

Heslo

Ověřovací kód:

Ponechejte mě přihlášeného/přihlášenou

Zapomněli jste heslo?
Ještě jste se nezaregistroval/a?
Sign Up Now
Přihlásit se k účtu třetí strany:
Open the whokeys APP
Scan The code to login
Zavřít

Vítejte v registraci do whokeys
E-mailová adresa *

Please enter a valid Email.

Heslo*

6 to 16 letters, numbers, and special characters.

Potvrdit heslo:*

Křestní jméno* Příjmení*

Ověřovací kód:

Přečetl/ jsem si a souhlasím s

Přihlaste se k nabídkám, soutěžím a zpravodajům whokeys
Máte již účet na whokeys?
Přihlaste se nyní
Přihlásit se k účtu třetí strany
Zavřít

Zapomenuté heslo
Zadat e-mail
Ověřit totožnost
Obnovit heslo
Heslo změněno
Account:

Ověřovací kód byl zaslán na

Ověřovací kód: :

Nové heslo: :

Potvrdit nové heslo: :
Zavřít
Prompt T698563:
The programe has been successfully submitted to the system
Zavřít
Prompt T698563:
The programe has been successfully submitted to the system
Zavřít
Prompt T698563:
The programe has been This is a warning ?
Zavřít

Successful Registration

Welcome ! You have successfully signed up to be an whokeys member.
A new item has been added to your Shopping Cart.